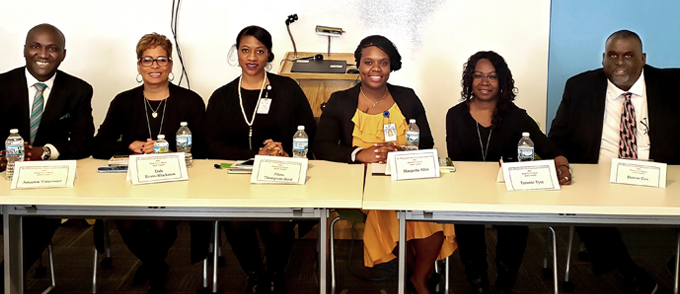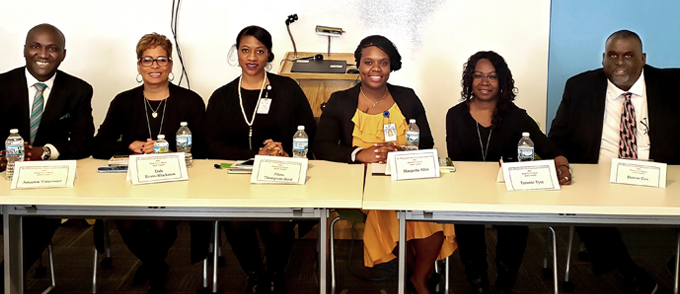 THE HEALTHLINK CULTURE IN ACTION
HealthLink associates put our corporate values to work through internal events and activities to help serve others. Check out what associates have been up to, including:
Local Industry Leaders Celebrate Black History Month by Giving Back
African American leaders gathered in the local St. Louis office for a special panel discussion in celebration of Black History Month. The panel was organized by the African American Professional Exchange (APEX) associate resource group (ARG).
Panelists at the event included Amadou Yattassaye, Missouri Plan President, Dale Evans-Blackmon, Director, Provider Solutions, Alana Thompson-Byrd, Medical Director, National Accounts, Marquetta Allen, Manager, Customer Care, Tammie Tyse, Manager, Health Services and Damon Cox, Manager, Prior Authorization.
About 50 associates brought their lunch and attended the event. Each of the panelists took turns answering questions on topics spanning career development, mentoring, keys to success and overcoming obstacles.
When asked what advice they would give to their younger selves, the panelists responded with advice such as; ask for meaningful feedback, raise your hand, take the time to become self-aware, not everyone will go with you and remember that even people who are well-meaning can be naysayers. Panelists also advised attendees to have an agenda, be purposeful and reach out to others who can help with their career path.
Finding a mentor was another topic of discussion during the event. Panelists talked about the importance of seeking out a mentor that is aligned with your professional and personal goals and reminded attendees to be open minded to the idea that they may need more than one mentor.
Overcoming the obstacles of being a minority in corporate America was also discussed at length.
"We are all very fortunate to work for a company that values diversity and is always pushing to become more inclusive," said Amadou Yattassaye. "But more than where you choose to work, it's about knowing yourself, being comfortable with who you are, and going after opportunities, don't wait for them to come to you."
Each panelist also brought a book that has influenced their career to share with attendees. Titles included; The 15 Invaluable Laws of Growth by John C. Maxwell, Strengths Finder 2.0 by Tom Rath and First 90 Days by Michael D. Watkins.
The resounding theme of the event was to be comfortable with yourself, know what you really want, and don't wait for the title to become a leader. "If you are true to yourself and crush what you are doing every day, the title and the money will come," said Dale Evans-Blackmon.
Lobby Kiosk Decorated for Martin Luther King Jr. Day
The lobby kiosk was decorated in celebration of Martin Luther King Jr. Day. Sponsored by the APEX ARG, the kiosk featured pictures and quotes from the late Reverend Martin Luther King Jr., as well as information on the meaning and importance of the day. The office was closed in observation of the holiday on January 21, 2019, but the kiosk reminded associates that Martin Luther King Jr. Day is the only federal holiday recognized as a day of service - "it's a day on, not a day off."